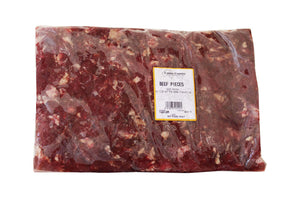 Introducing Beef Pieces: the blast of energy your pup has been barking for! Perfect for powering up the agility-obsessed doggo, this 2.5kg bag of Beef Pieces will tantalize your tail-wagger's taste buds and keep them ready for action! Bursting with high-energy nutrition, Beef Pieces are sure to become your furry friend's favourite meal!
PRODUCT INFORMATION

Ingredients: 100% Australian  Beef
Individual sizes may vary, depending on stock availability.