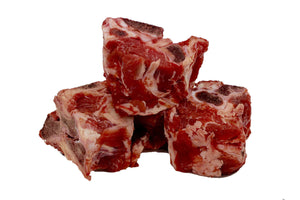 These Beef Back Bones pack a double punch - your pup can get a delicious treat, while you can also feel good that they're looking after their dental hygiene and gum health too. Each bone is meaty, so your pup can chomp and chew to their heart's content, giving them all the pleasure of their favorite snack and the peace of mind that comes with knowing you are helping look after their teeth.
Individual sizes may vary, depending on stock availability.
Price per 1kg.
Always supervise your dog while feeding bones and never feed cooked bones as this can be very dangerous.